2012 Featured Members
FCP is a community driven website with some truly amazing members who have achieved some remarkable goals. FCP recognizes those members who regularly contribute to the FCP Poker Forums or excel in playing poker both live or online. Our administrative staff carefully selects a new member to feature throughout our website not only to boost egos but also to give respect back to the community.
FCP Featured Members:
November 1st, 2012: Ron_Mexico
Chris found his love for the game of poker after catching the WSOP on TV back in 2003. Like many others, he become consumed by it and wanted to learn as much as possible.
So back in 04/05, Chris looked up Daniel online and ultimately landed himself on FCP, which he now calls home. "I had never been a member of an online community or anything. I basically lurked for 2 months until something finally moved me to create an account and post," said Chris. Since then, the community has got to enjoy plenty of his jokes & insight as he's accumulated over 22,000 posts at the time of this write up.
While the game itself is a hobby to Chris, he's read at least 6 books and enjoys playing all of the games, though his favorite is Hold'em. He also enjoys playing live at the Daytona Beach Kennel Club where he's always had more success than online (which by the way, he likes to blame that on drunk multitabling & impatience). "I'm usually up just enough to cover my drinks and the occasional nights out. I play for the fun and the rush of the bluff, stupidly."
Most days though Chris can be found on the FCP message boards, usually hanging out in the Off Topic forum.. "I basically stayed in General for a while, read all the blogs and just enjoyed everything poker. Then it kind of transformed into a social outlet, eventually becoming my online home, even to this day. I posted in the Army for a bit and eventually found my home in the Sick Thread. I thoroughly enjoy the people I've met on here and hope it continues on."
August 1st, 2012: SuperJon
Jon first got serious with poker 10 years ago but didn't fare well early on. "It was mostly live games at first where I would get paid on a Friday, and lose my entire paycheck that night," said Jon. "Luckily at the time, I didn't have any big bills to pay."
Eventually Jon moved to online poker, and early on he was putting up decent results in tournaments. "I remember winning a few on UB and Stars over the years. But due to poor money management, I never really got a big roll started to move up in stakes."
He joined FCP 7 years ago, in July of 2005 but it wasn't until the last few years that Jon started becoming more confident with his poker game. "This can easily be owed to the folks in the Movin' On Up thread in the NL Forum. Guys like KingJames, Trystero, Fighter, Colbalt, and even NinjaAce have all helped my poker game immensely. There are definitely other guys as well that I'm sure I forgot to mention."
A couple of years ago Jon was grinding 5NL 6max on Poker Stars and netted a few 3 and 4 figure scores in tournaments. This allowed him to moved up in stakes where in 2011 he started playing 25NL 6max. "I was doing the best I'd ever done. I played about 50k hands, and was beating the game for 6.12BB/100."
Then…Black Friday happened. "Luckily for me I didn't have as much online as some people and I was able to cash out, but it still affected me in a very negative way." Although Jon continued to find ways to play online, he only deposited small amounts and grinded 5 & 10NL until a software change had him withdraw his remaining money. "I cashed out, and I haven't played online poker since."
"At this point I've decided to take a break from being really serious about poker. However, I still make sure to visit various forums to keep up to date with the trends." Jon still occasionally watches poker training videos just in case online poker ever becomes regulated in the US.
"My main focus now has been on pool, practicing as often as I can. I'm fortunate enough to get pointers from one of the best players in FL, and that has definitely improved my game."
June 1st, 2012: strategy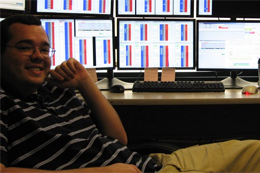 strategy at FCPer mk's trading office
After seeing Daniel's ESPN appearances, strategy began reading Daniel's blog and signed up to the forums shortly after they were launched. "I regret my procrastination with registering, as there are still a handful of active members who predate me and remind me of that fact from time to time," said strategy.
The beginning of his poker obsession came in 2005 when, in a 48 hour span, he inexplicably made two final tables in small nightly online MTTs. "I was terrible, but I'd just taken a few thousand dollars off of online poker, so I thought I was amazing." Posting in FCP's tournament section opened his eyes to a variety of new strategies (no pun intended) that he wasn't aware of.
While playing online during his college days, strategy's biggest accomplishment was forming a lucrative strategy to attack the PokerStars $22 180s. You can read about that tournament here.
"Unfortunately, I was a college student, and I had to quit playing due to the adverse impact it had on my grades. I do still occasionally play small-stakes live games whenever the local casino decides to spread a limit hold'em game that isn't $2/4 with a max $5 rake per pot."
Outside of poker and likely unknown to many, strategy met a girl from England through FCP which led to a two year relationship. "She visited a few times, then decided to study abroad at my university for a year. I'm not sure how much mileage I'll get out of that story over the course of my life, because it is so unbelievable and random, but it was an incredible experience."
Today, strategy does financial spreadsheet work for a big bank in KC, MO. "Poker, the learning experience, and the people I met at FCP steered me toward a career path in finance. Most of my posting today occurs in the Politics, Hockey, and Gen OT forums. Looking over the archives, I'm the third Full Contact Hockey League franchise owner to be a featured member (Steve and Adam preceding me). I have yet to meet those guys, but I'm certain I'll attend their summer Vegas get-togethers in the future."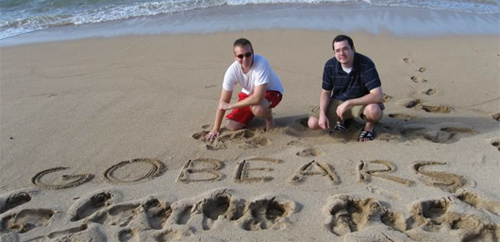 April 1st, 2012: Dubey
Like many others, Dubey first got interested in poker during the Moneymaker era. He started organizing a weekly poker game with some friends, eventually turning his parent's basement into a basic poker room, often hosting $20-$50 tournaments with 30-40 people.
"My parents played too, so they were cool with it. I started reading a lot of poker books, and learning a lot about the game. It was around this time that I discovered FCP," said Dubey.
When he first joined, he posted mainly in the General Poker Forum and occasionally venturing into the NL Strategy section. "Unfortunately, playing in my weekly home game gave me an inflated opinion of my poker ability."
Once Dubey went online, he managed to win a decent amount playing small stakes, but never had the patience or skill level to advance to higher limits. "I've had moderate success with live cash games, but never enough to consider it anything more than a hobby. These days, I still host a semi-weekly cash game at home, and occasionally donate some money to the local 1-2 NL games at the casino."
Around 2008, Dubey found the hockey forum, and that has been where he spends the majority of his time online. "There is a great group of guys that post there regularly, and it is still the only place on the internet where I can go for an intelligent hockey discussion. 90% of my time on FCP is spent there now, though I do occasionally venture into the other off topic forums."