Suited_Up, on Wednesday, June 28th, 2006, 1:42 PM, said:
It's pretty awesome... and about time. Our old one was such a peice of crap!!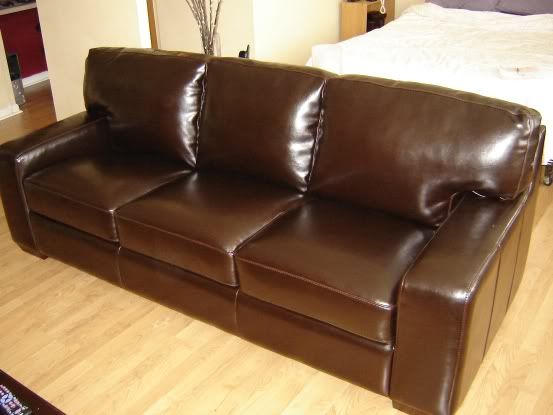 I don't like that couch as it is right now. Firstly, it appears to be leather or some leather-like simulation which sticks to the skin. The arms also appear to be very low which makes it difficult to support a pillow or two. I suggest you get a nice cover for the couch which will prevent stickage. You must make sure that the cover is tight enough so as not to become more of a nuisance due to slippage. I also suggest you move the couch so one end is flush against the wall. This will provide the necessary support for the pillows one will need to lay down comfortably while watching TV or...You may also consider purchasing some heavy duty brads and a couple of leather handles to attach to the back of the couch. I suggest you have them professionally attached as they will undoubtedly be put through the ringer when you're jammin your lady/man from the backend.