My month is finished so I started the thread. I stole Jordan's poll because I think it's awesome

mln_falcon, on Saturday, September 1st, 2007, 1:42 PM, said:
September Goals:To have my first $1000 dollar month. Move up to nl50 which I want to do when I reach $1500. So thats about 18 buyins, which I want to do in about 2 weeks, and then another $500 is at nl50 in the second two weeks. About 25k-30k hands and I want to play at least 1k hands of Omaha. Hopefully alot of the profit will be on tilt, as I'm underolled over there.
August Results
Failed to have a $1000 dollar month, made $500 at nl25 in the first 2 weeks as planned. Moved up to nl50 and Poker is Easy as I go on a sick early rush. Then Poker sucks as I lose it all back. Then 1 and a half weeks of breakeven poker. Finally started to turn around towards the end. Lost money on Full Tilt Poker in the first week, and stopped playing there as their software annoys me. I also made Gold Star on Stars.

Only played 23k hands, It was really hard to put hands in the first half of the month.

It's almost not worth putting in the PLO, I played no hands. I need major work on my NLHE game so I wasn't motivated to try something new.My September NLHE graph (wee swingy at the end)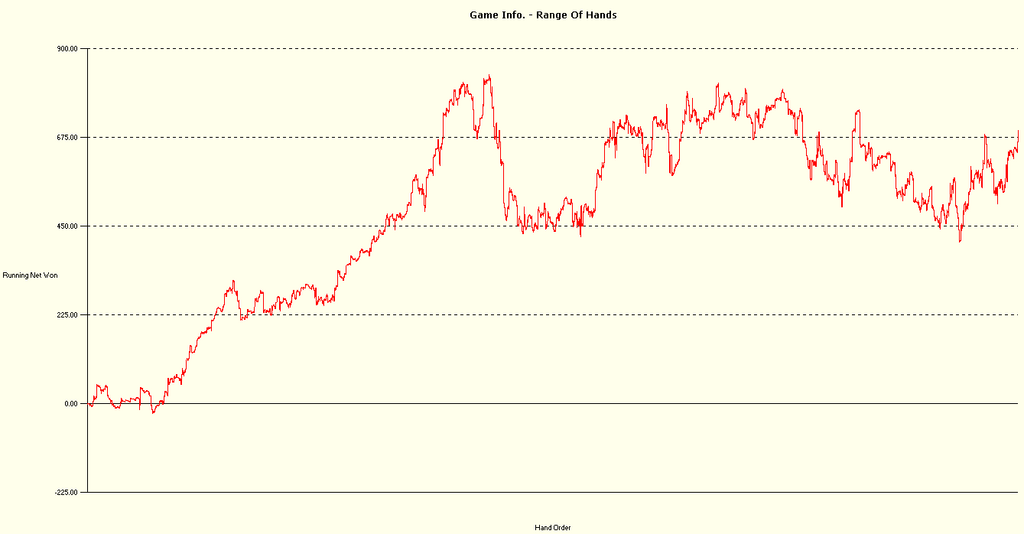 October Goals
So at the advice of Jordan I've been tweaking on my game. So this month I'm sticking for two tabling for a while and really concentrating. I might add another table or two if I'm getting very comfortable and playing/running well. So less hands this month, maybe only 15k hands. However I do want to maintain Gold Star status. No Monetary goal but I want a decent winrate by the end of the month, at least 5ptbb/100 at nl50, so thats $750 which I think is extremely doable. I won't be taking any shots at nl100 until I have at least 35 buyins for it, so $3500 in the bankroll, so I most probably won't take any shots this month. There are no Omaha goals this month.